Japanese sunscreens have always stood out to me because of their elegant formula/finish so when Kao Corporation launched the Nivea UV Deep Protect & Care Gel in February, I knew I had to try it; especially since it has a high UVA & UVB rating (SPF 50+ PA++++).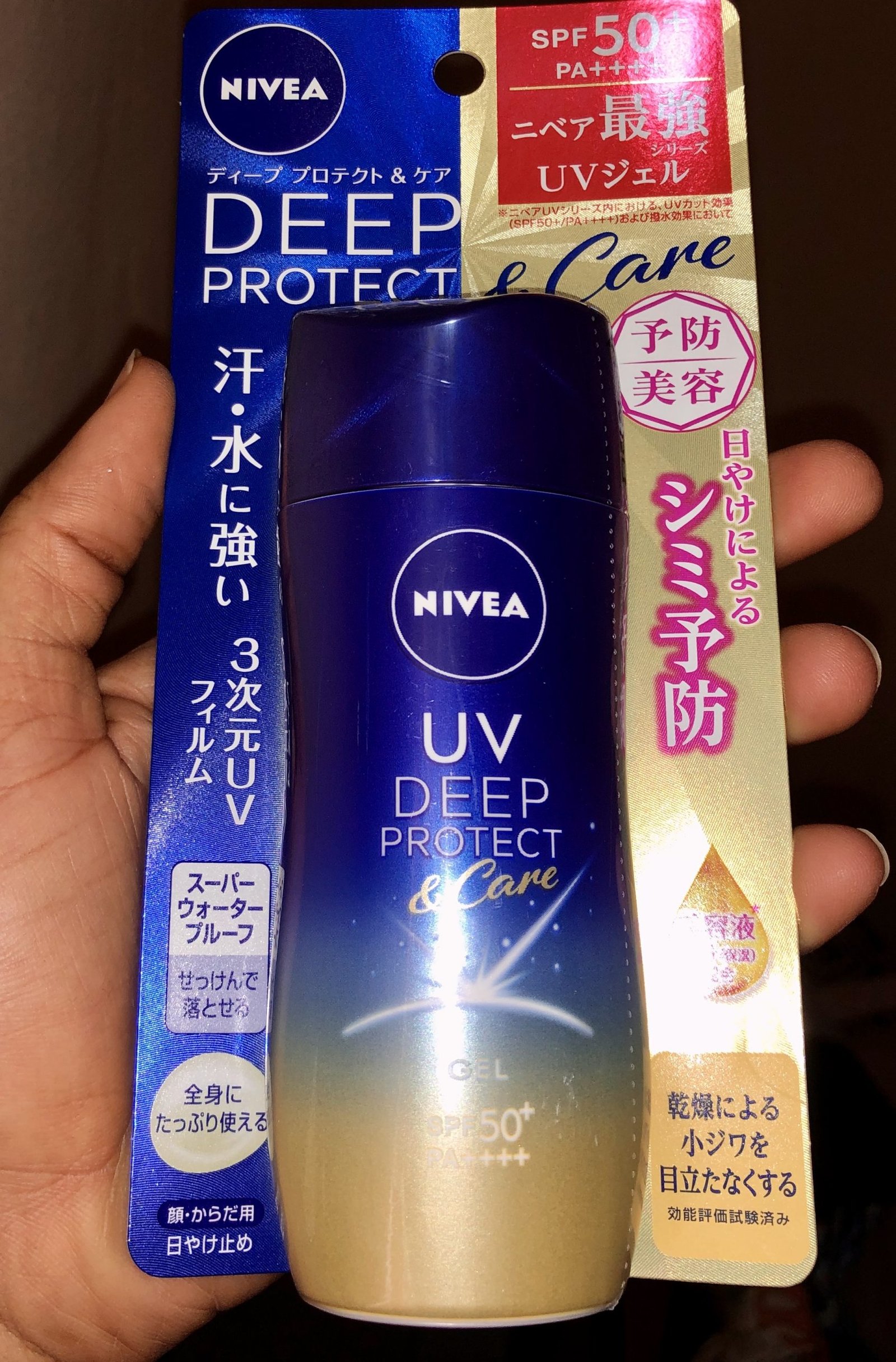 Let's take a look:
One feature that stood out to me is the "3-Dimension Film Technology"; which the brand claims to provide an even UV-blocking film down to the micro-crevices in the skin, and stay put even in the presence of water and heavy perspiration. Reminds me of the cult favorite Biore Aqua UV Rich Essence (also produced by Kao Corp).
It also claims to be an anti-aging sunscreen; specially designed with women over 30 in mind; to help prevent age spots, dark spots, and other signs of photo-aging. This is not to say that women (and men) under 30 can't use this sunscreen; in fact, it'll be a plus if you are equally trying to prevent photo-aging and UV damage. It's never too early to care for your skin.
Product details courtesy of RatzillaCosme.com
Key Ingredients (UV Filters):
Octinoxate (UVB)
Uvinul A Plus (UVA),
Tinosorb S (UVA & UVB),
Uvinul T150 (UVB),
Parsol SLX (UVB).
Other notable ingredients include Sodium Hyaluronate (humectant, moisturizing), Rosewater flower (antioxidant, beware if you have allergies), Honeysuckle Flower Extract (soothing).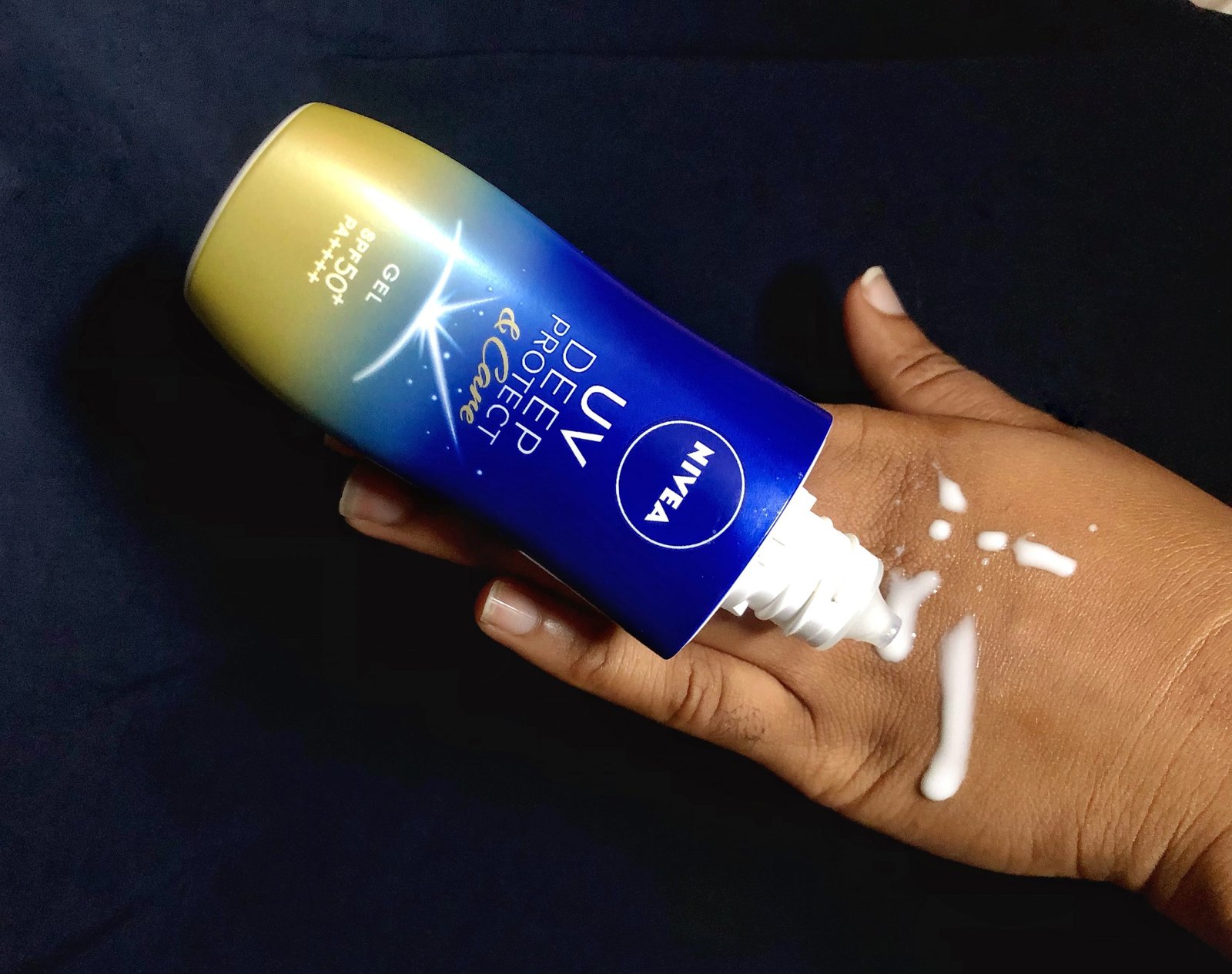 Application & Packaging:
Packaged in an opaque, plastic bottle, it dispenses a fluid-like/runny texture (thanks to the high alcohol content) that goes on lightweight and dries down to a semi-dewy, skin-like finish. The blending time is decent, about 20-30 seconds. It's portable and easy to carry around for reapplication.
Who can use it? It's suitable for all skin types: balanced, combination, mature, dry, and oily skin
White cast: From my experience, it does not leave a white cast on skin of color. It's dark skin-friendly.
Read more: How to tell if a sunscreen will leave a white cast.
Pilling: It balls up when layered over many steps/products. To prevent this from pilling into small particles on my finger, the max I can do is one or two lightweight water-based serums. It doesn't play well with moisturizers that contain silicone.
Finish: It leaves a visible moisturized, semi-dewy finish, nothing greasy or tacky at all. The dewy effect can be enhanced or watered down, depending on the products applied before the sunscreen. It's less dewy when I skip a moisturizer before applying it. It does not make the skin appear darker. It does the opposite, makes it appear brighter and more radiant.
Reapplication: It's easy to reapply because of how lightweight the formula is; it doesn't get tacky or sticky after reapplication, but it balls up minimally. It also reapplies over makeup without overly ruining the makeup beneath (well, only, if you've mastered this skill).
Water-/Sweat-resistant? For the first hour or two after application? Yes. Anything after that, the effect wears off. It doesn't stay put like the Kose Suncut UV Protect Essence (reviewed here).
Removal? The brand claims you only need regular soap/water-based cleanser to take this sunscreen off and I can agree with that. However, after, a long day of multiple reapplications, it's best to oil-cleanse.
Fragrance: It contains artificial fragrance and has a light rose scent, nothing strong or overpowering. I did not experience any allergies with this, but it's noteworthy for those who cannot tolerate fragrance in their skincare products.
Value: 80ml. Lasted for about two months
Price/ Where to Purchase? Shopping globally? Yesstyle for $13.2; Nigeria? Eve Beautique for NGN 10500
Rating/Verdict: I'll give this a good 4/5 rating. One star down for the pilling. I like that it offers great UV protection; I hardly tan whenever I wear this sunscreen, I also like the glow it gives my skin and it sits excellently under makeup. Check out this video where I used it before makeup. It's also great for summer/humid climates; lightweight but really hydrating. I will most likely repurchase after going through my sunscreen wish list.
Have you tried the Nivea UV Deep & Protect Care Gel? What was your experience like?