Ever since liquid lipsticks burst into the beauty world, they've been the go-to for a long-lasting and kiss-proof finish. However, it comes with a price. They can be drying and end up looking flaky throughout the day, if not properly applied. Below are some tips that will save your lips from the damage.
Take time to prep! Like base application, prepping is key here as well. What you don't want to do is go ahead and apply liquid lipstick to a dry, chapped lip because it'll settle in the fine lines and patches of the lips – not cute. An effective way to do this is to apply a moisturizing lip balm before you begin makeup application, that way it has some time to sink into the lips before you go in with the liquid lipstick.
Even if you've just wiped off foundation off your lips, you can still apply a lip balm and pat it with a tissue before applying the liquid lipstick. That way you prevent it from mixing in with the lipstick but still get the hydration.
Exfoliate. This is important to get rid of the dead skin cells and for smoother application. There are several ways to exfoliate your lips. Personally, I like to gently brush them when I'm brushing my teeth in the morning. Another way is to use a lip scrub; you can even DIY at home. I like to do this weekly as exfoliating too much can dry out the lips.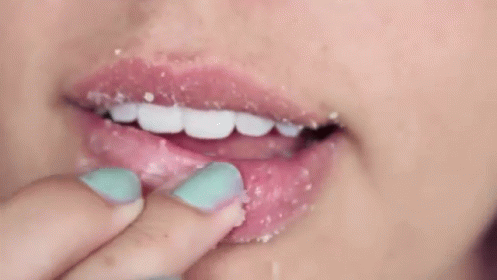 Here is a quick at home DIY lip scrub:
1 tablespoon of honey (moisturizing, natural healing effect)
1 tablespoon of sugar (exfoliant)
1 teaspoon of olive oil (emollient, moisturizing)
Mix all together and allow it to sit for about 5-10 minutes before use. Take a pea-size amount on your finger and gently rub it all over your lips (don't neglect the corners of the lips). Let it sit for 2-3 minutes and rinse off or wipe with a warm cloth. This can be stored in the refrigerator for up to two weeks.
Less is more! You do not need to layer on liquid lipsticks. Applying one even swipe is enough, especially because of how pigmented they are. The more you layer it on, the more likely it is to flake during the day. If you need to touch up during the day, it's better to wipe it all off and reapply. Don't forget your lip balm of course.
More could be better. This one is a tip I learned unintentionally one time when I wore a satin lipstick and wasn't feeling it, so I decided to apply a liquid lipstick of the same color on top and I realized how comfortable it felt on the lips. Yeah, you're probably thinking, well you just contradicted what you mentioned before. However, this is different as the lipstick underneath is a moisturizing one and it serves as a barrier between your lips and the liquid lipstick.
That way, you get the moisture of the one underneath and the budge-proof effect of the liquid lipstick – win, win. Basically, what you'll do with a lip liner but a hydrating version. It also locks the color in and prevents it from wearing off quickly. Again, be sure to blot out the top layer with tissue so it doesn't mix with the liquid lipstick. If this is too extra for you then just stick with a lip balm or lip primer.
Overall, the trick is to take good care of your lips when you're not wearing them and stay moisturized. If you have any other liquid lipstick hacks, feel free to share them below.